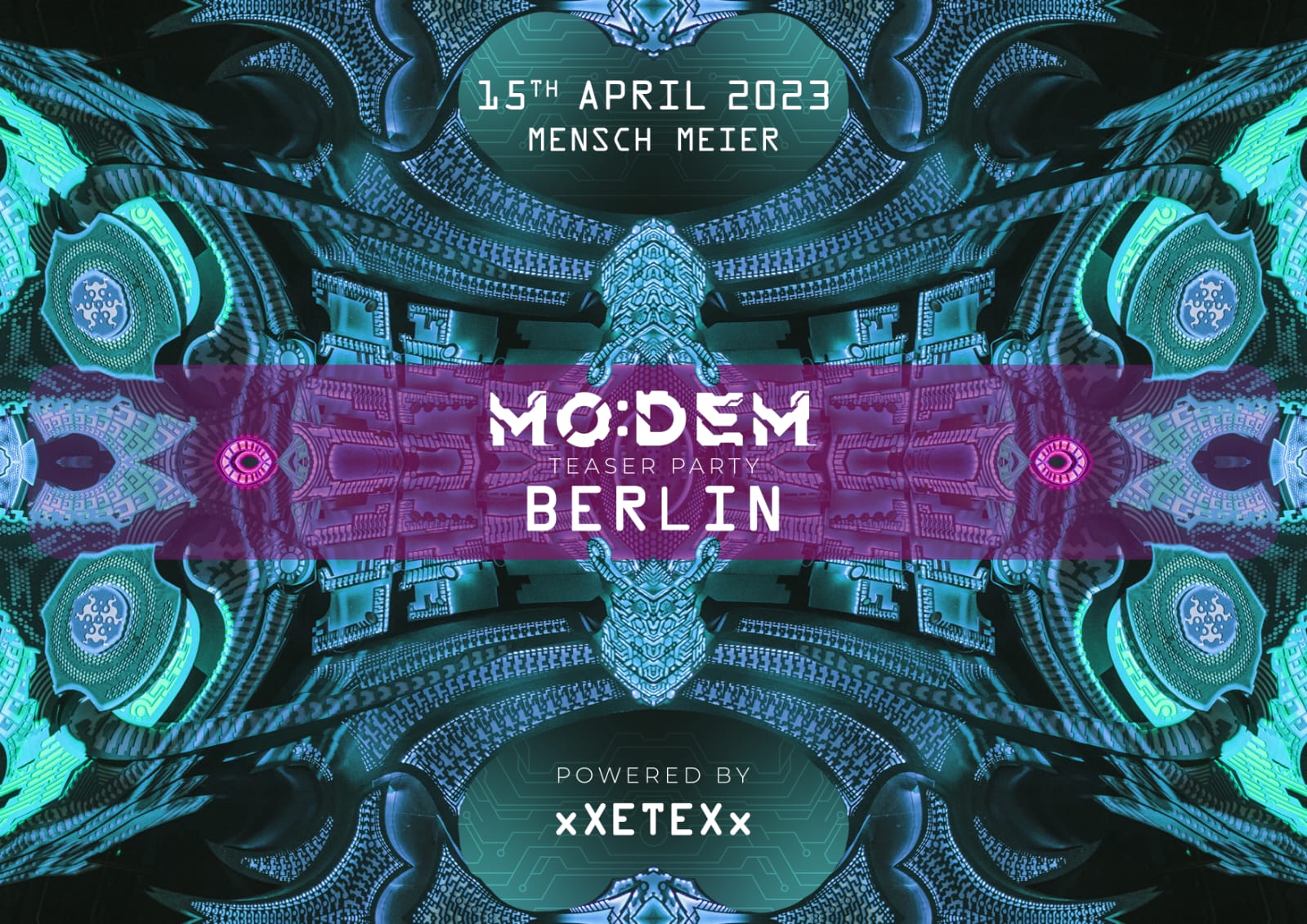 MoDem Festival in Berlin powered by xXETEXx 2023

| | |
| --- | --- |
| | AKA Nina, Josephine Wedekind, TILDA, Jairam, Magnificent Matter, Lilian Stark, FRY Visuals |
| | 15/04/2023 |
| | 23:30 |
| | Berlin |
| | Mensch Meier |
| | Google Map |
Modem Festival in Berlin powered by xXETEXx
Ready for another blast? xXETEXx and MO:DEM are back!!!
𝗠𝗢:𝗗𝗘𝗠 𝗧𝗘𝗔𝗦𝗘𝗥 ▷ 𝗕𝗘𝗥𝗟𝗜𝗡 𝟭𝟱.𝗔𝗣𝗥𝗜𝗟 𝟮𝟯
HIVE ■ SWAMP ■ SEED

▷▷▷ 𝗛𝗜𝗩𝗘 ◁◁◁

■ 𝗛𝗬𝗣𝗢𝗚𝗘𝗢 live
■ 𝗙𝗔𝗚𝗜𝗡´𝗦 𝗥𝗘𝗝𝗘𝗖𝗧 live
■ 𝗠𝗘𝗚𝗔𝗟𝗢𝗣𝗦𝗬 live
■ 𝗞𝗜𝗠𝗠𝗘𝗜
■ 𝗩𝗘𝗥𝗧𝟯𝗫
■ 𝗔𝗕𝗥𝗔𝗟𝗔𝗕𝗜𝗠
■ 𝗝𝗔𝗜𝗥𝗔𝗠
▷▷▷ 𝗦𝗪𝗔𝗠𝗣 ◁◁◁

■ 𝗩𝗔𝗟 𝗩𝗔𝗦𝗛𝗔𝗥
■ 𝗝𝗢𝗦𝗘𝗣𝗛𝗜𝗡𝗘 𝗪𝗘𝗗𝗘𝗞𝗜𝗡𝗗
■ 𝗔𝗞𝗔 𝗡𝗜𝗡𝗔
■ 𝗧𝗜𝗟𝗗𝗔
▷▷▷ 𝗦𝗘𝗘𝗗 ◁◁◁

■ 𝗧𝗢𝗫𝗜𝗗𝗢 𝗠𝗔𝗦𝗞
■ 𝗥𝗘:𝗦𝗘𝗧 live
■ 𝗟𝗜𝗟𝗜𝗔𝗡 𝗦𝗧𝗔𝗥𝗞
■ 𝗬𝗢𝗕𝗢𝗩𝗦𝗞𝗜
■ 𝗗𝗢𝗥𝗢𝗡

𝗔𝗥𝗧 • 𝗣𝗘𝗥𝗙𝗢𝗥𝗠𝗔𝗡𝗖𝗘𝗦 • 𝗜𝗡𝗦𝗧𝗔𝗟𝗟𝗔𝗧𝗜𝗢𝗡𝗦
■ 𝗙𝗥𝗬 𝗩𝗜𝗦𝗨𝗔𝗟𝗦
Video Mapping
■ 𝗠𝗔𝗚𝗡𝗜𝗙𝗜𝗖𝗘𝗡𝗧 𝗠𝗔𝗧𝗧𝗘𝗥 –
Video Mapping
■ 𝗧𝗨𝗥𝗜𝗬𝗔 𝗠𝗔𝗦𝗦𝗔𝗚𝗘
■ 𝗔𝗥𝗧 𝗖𝗢𝗟𝗟𝗜𝗗𝗘𝗥
Art Exhibition & Visual Installation
Event Infos
On Saturday 15 April, we will be returning to Mensch Meier, joining forces once more with MO:DEM to give you a taste of what's to come this summer! We cannot wait to thaw out with you on the dancefloor, surrounded by delicious tunes, epic visuals and next level art installations.
For us, music has no borders, unlimited by genre – it's simply a representation of taste and expression! You can expect diverse soundscapes and energizing mixes that weave the tapestries of psychedelic electronic music. And yes, we appreciate a wide range of styles, building from 70 to whatever BPM – so simply dive in and float down the cascade of sound! Feel free to share this event with your beloved ones and please support us if you resonate. We are really looking forward to spending some quality time with you all – and for sure we are going to blast!!! 
Your feedback from our last event has been received and we have already worked out a game plan to ensure nobody is waiting in line for hours! We are working with Mensch Meier to make sure everyone has a chance to join the party – but part of this plan requires your help. We have come up with a checklist so that everyone gets in as fast as possible:
Tickets at door (less than 20,-)
𝙁𝙖𝙨𝙩 𝙚𝙣𝙩𝙧𝙖𝙣𝙘𝙚

✎ Have your mask ready on entry.
Mensch Meier asks people to wear one on arrival. You won't need a mask once inside the club.
✎ Leave your big bags at home.
All bags will be checked for safety reasons, so let's make it super quick for security by packing light!
✎ Don't bring liquids!
Mensch Meier has a zero-tolerance policy for GHB, so best to just leave all liquids / toiletries at home to be sure you don't get stopped.
✎ If you can, chuck a sticker on your phone camera before you come to save time.
✎ Arrive as early as possible! We will make sure doors are widely open!
✎ We will also make sure that there is a member of the xXETEXx crew at the door to ensure a smooth entrance! 
𝘼𝙬𝙖𝙧𝙚𝙣𝙚𝙨𝙨
We also want you all to know that we consider awareness to be a vital aspect to party culture, and together with Mensch Meier we are working hard to ensure everyone feels safe and that consent is practiced both on and off the dancefloor. Unfortunately, in spite of our attempts to prevent it, assaults and boundary violations can still occur. If you witness or experience any inappropriate behaviour, please report it immediately to the bar or club staff. Ask for the organiser of the party and we will act directly. We will also notify the Mensch Meier awareness team who will be on hand to support. You alone have the right to determine what is OK for you – and what is not! In an ideal world, nothing like this will happen, but it's better that we put support systems in place to ensure we can act fast if something does occur. Please remember to be mindful and respectful of others, so that we can have a beautiful night together!
See you there!!! 
Love. Passion. Commitment.
Mo:Dem Crew & xXETEXx Crew